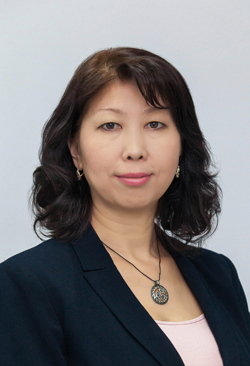 Saule Kulzhambekova
Senior Counsel
Deputy Managing Partner
Trademark & Patent Attorney of RK
Skulzhambekova@BolotovIP.com
Education
Adilet Higher Law School, Almaty, Kazakhstan, with Honors, lawyer, 2000
Almaty Architectural Building Institute, Almaty, Kazakhstan, wood processing engineer, 1989
Saule Kulzhambekova has worked in the area of intellectual property ("IP") rights protection for more than 20 years and has been a registered trademark & patent attorney of the Republic of Kazakhstan since 2005.
Saule worked as a Senior Expert responsible for trademark examination at the National Patent Office of the Republic of Kazakhstan for about 7 years. In 2001-2002 she managed the Legal Department of Kazakhstan Institute for Patent Examination of the Committee for IP Rights of the Ministry of Justice. Saule was actively involved in drafting and discussing amendments to legislative acts in the area of IP rights protection.
She has participated in court hearings relating to IP rights as a representative of the Institute of Patent Examination of Kazakhstan and as a specialist in the field of trademark protection. Currently Saule represents individual and corporate clients in courts of all levels and in the Appeal Board of the Ministry of Justice of the Republic of Kazakhstan.
Mrs. Kulzhambekova has a vast experience in fighting violations of trademark and patent rights in cooperation with law enforcement agencies and a considerable court practice in disputes over IP rights.
Saule continuously lectures at training seminars in the field of intellectual property protection.
---
Practices & Industries
Intellectual Property (protection and enforcement of IP rights, drafting and registering agreements for use of trademarks, patents and copyright in Kazakhstan and other CIS countries)
Franchising (analysis, preparation of drafts of franchising agreements and consulting in this field)
Previous Experience
Senior Counsel, McGuireWoods Kazakhstan LLP, Almaty, Kazakhstan, 2004–2010
Attorney, Michael Wilson & Partners Ltd., Kazakhstan, 2002-2004
Head of the Legal Department, Institute for Patent Examination of Kazakhstan, Legal Department, 2001-2002
Senior Expert, National Patent Office, Trademarks and Industrial Designs Department, 1993-2001
Certifications
Registered trademark & patent attorney of the Republic of Kazakhstan, registration No.54;
Certificate of WIPO on the subject of "General Course on Intellectual Property", Geneva, Switzerland, 2002;
Certificate of the Patent and Trademark Office of USA (training courses), Arlington, USA, 2002
Certificate of Center for Raising the level of advocates' skill and education advocates of Advocate Association of the Republic of Kazakhstan (training course on the subject of "Court proceeding"), Almaty, 2008
Publications
«Legal trademark protection abroad» - online version of Kazakhstan weekly business newspaper «Капитал.kz», November, 2013
«Kazakhstan: Intellectual Property Rights» (in co-authorship with Yuri Bolotov) – World Trademark Review (Anti-counterfeiting 2009), May, 2009
«Uzbekistan: Protection of Intellectual Property» – GMB Research, March, 2009
«Kazakhstan: Protecting Trademark Rights» (in co-authorship with Yuri Bolotov) – IP Value, January 2009
«Turkmenistan: Intellectual Property Protection» – GMB Research, 2009
«Intellectual Property of Companies» (in co-authorship with Yuri Bolotov) - Newsletter for Oil Companies, 2004
«Trademark and Franchising Agreement» - www.franchising.kz, 2004
«Protect Your Trademark Abroad» - Foreign Economic Activity in Kazakhstan, Export Magazine, 2004
«Legal Protection of Exclusive Rights to the Items of Intellectual Property» (in co-authorship with Yuri Bolotov) – Intellectual Property of Kazakhstan, Scientific Practical Magazine of the IPR Committee, 2004
«Software Copyright Protection in the Republic of Kazakhstan» (in co-authorship with Yuri Bolotov) - Doing Business with Kazakhstan (3-rd Edition), Cogan Page & Contributors, 2004
«Well-known Trademarks Protection in Kazakhstan» - Zaman magazine, Almaty, 2003
«Use of a Trademark, Service Mark and Appellation of Origin of Goods» - Chapter of the Textbook Principles of the Patent Rights and Patenting in the Republic of Kazakhstan, Zheti Zharghy, Almaty, 2003
«Designations, Which Can Not Be Acknowledged as Trademarks and Appellations of Origin of Goods» – Chapter of the Textbook Principles of Patent Rights and Patenting in the Republic of Kazakhstan, Zheti Zharghy, Almaty, 2003
«Absolute and Others Basis, which Exclude of Trademark Registration» - Chapter of the Textbook Principles of Patent Rights and Patenting in the Republic of Kazakhstan, Zheti Zharghy, Almaty, 2003
«Trademark Using» - Chapter of the Textbook Principles of Patent Rights and Patenting in the Republic of Kazakhstan, Zheti Zharghy, Almaty, 2003
«Well-known Trademarks as the Objects of Legal Protection» - Zanger, law magazine, 2002
Membership
International Association for the Protection of Intellectual Property (AIPPI)
Association of the Patent Attorneys of the Republic of Kazakhstan
Arbitrator of the International Arbitration Court
MARQUES
Languages