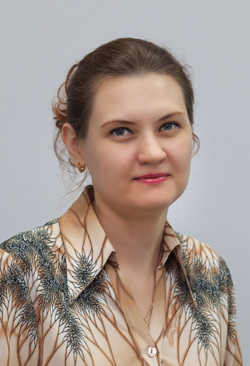 Natalya Penkova
Patent Agent
Trademark & Patent Attorney
Npenkova@BolotovIP.com
Education
Kazakh State University, Chemistry faculty, Almaty, Kazakhstan, 2002
PhD in chemistry, Institute of Organic Catalysis & Electrochemistry, Almaty, Kazakhstan, 2005
Natalya has been a registered Trademark & Patent Attorney of the Republic of Kazakhstan since 2015. She also works as the Paralegal dealing with registration of trademarks, industrial designs, inventions and utility models.
---
Practices & Industries
Intellectual Property (filing applications for registration of inventions, utility models, industrial designs, selection achievements), registration of trademarks and domain names).
Previous Experience
Senior scientific specialist of the Institute of Organic Catalysis & Electrochemistry of the Republic of Kazakhstan, Almaty, Kazakhstan, 2009-2010
Scientific specialist of the Institute of Organic Catalysis & Electrochemistry of the Republic of Kazakhstan, Almaty, Kazakhstan, 2006-2010
Publications
15 scientific articles in specialized magazines
5 authorship certificates to inventions of the Republic of Kazakhstan
Certificates
Certificate of the National Institute of Intellectual Property on Legal Protection of Intellectual Property Items. Use and Commercialization of Intellectual Property Items, 2010, Almaty, Kazakhstan
WIPO Certificate on General Course on Intellectual Property, 2010, Geneva, Switzerland
Certificate of United States Patent and Trademark Office (UPSTO), 2011, Almaty, Kazakhstan
Certificate of WIPO and the Russian State Academy on Intellectual Property on Principles of Intellectual Property, 2012
Certificate of the Ministry of Justice of the Republic of Kazakhstan and WIPO on the Access to Patent Information- Methods and Ways of Information Search, 2015, Almaty, Kazakhstan
Languages